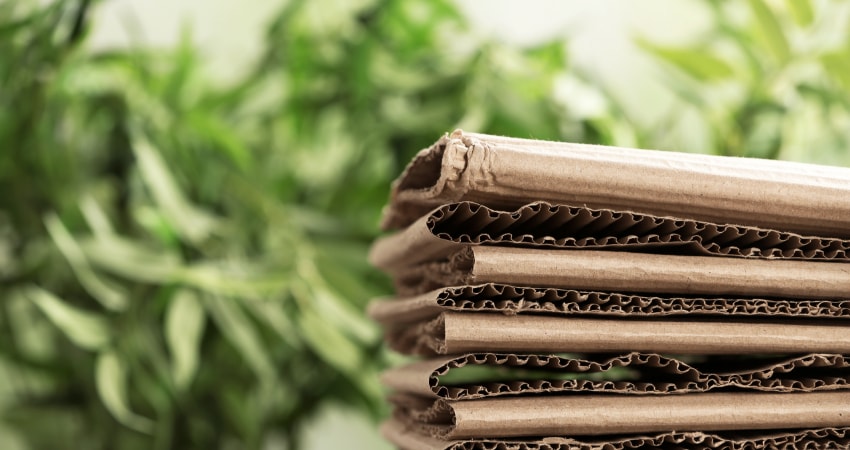 Express Packaging has long understood the impact our company has on both the environment and the people who use our products. As the debate rages about the best ways to go green, we've been busy finding ways to make smarter choices for the future. It's why we've chosen corrugated cardboard as our sole packaging material. Learn more about how corrugated cardboard protects both the contents of your package and the world around us.
Recycling at Its Best
Corrugated cardboard is made from paper pulp, a material that can be derived from a number of sources. Everything from woodchips to waste paper to even old rags can be turned into pulp. Express Packaging ensures that the vast majority of our paper pulp comes from recyclable materials, and we recycle 98% of any box material waste produced on the job.
If the paper pulp is made from trees, it's made from pine — one of the fastest growing trees available in the paper industry. When trees are harvested to make corrugated cardboard, the supplier will plant seedlings so there's no net loss of plant life.
Durable and Dependable
What happens when people are done with an Express Packaging box? They reuse it of course! Due to its strength and practicality, corrugated cardboard is one of the most reused materials on the planet. From moving to storage to mailing, corrugated cardboard can stay in circulation for much longer than the time it takes to ship the original package. People can easily collapse the box when they don't need it, and then reassemble it when they do.
Industry-Wide Trends
It's not just Express Packaging that's getting onboard with environmental sustainability. The entire industry has been searching for ways to reduce the weight of cardboard boxes without sacrificing the quality of the cartons they create. In 2014, the average basis weight for the material was 131.6 pounds per thousand square feet. In 2017, the number dropped to 125.5 pounds. This achievement proves the priorities of the industry.
Express Packaging has made a pledge to those who use our products, but we've made a promise to
the environment as well. As the years move forward, we will continue looking for ways to cut down on our carbon footprint while contributing to larger environmental efforts. If you have questions about any of the products we make, contact us today!