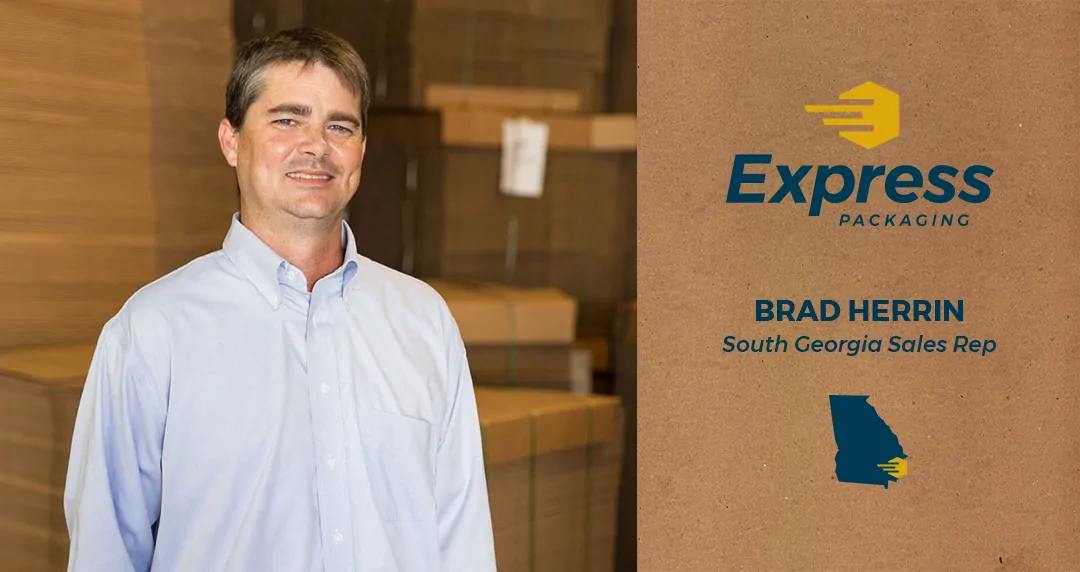 Over the decades, Express Packaging has proudly retained its family-owned and operated status. Throughout the company's history, it has helped to manufacture corrugated boxes of all shapes, dimensions, and styles to meet the custom needs of every customer. For the past two decades, one employee has stood out for his dedication, willingness to go the extra mile, and sales efforts. Through his efforts, Brad Herrin has become an integral member of the Express Packaging family.
Meet Brad Herrin
Brad first joined Express Packaging when he was attending Georgia Southern University. During his college years, Brad met Mike Reardon, who is now Express Packaging's Vice President. Mike encouraged Brad to begin working part-time as a sales associate at Express Packaging. Over the next two decades, Brad would become a key player in helping customers feel like they are a part of the Express Packaging family.
In fact, through consistency, honesty, and good old-fashioned hard work, Brad has helped to turn countless businesses into repeat customers. His loyalty and dedication stems from an understanding that Express Packaging's success depends on its customers. He takes his time to build and maintain relationships with each of his customers. He also makes sure that he knows both the customers and his coworkers as individuals. In his words, "success takes a lot of different people, from truck drivers to secretaries. It's a team effort, and at Express Packaging we treat our customers as we would treat our family."
Speaking of family, Brad was even lucky enough to meet his wife under the Express Packaging umbrella. When he isn't busy mitigating risks and ensuring that customers have the optimal experience on every single order, he can be found playing with his two children, swimming, and of course hitting the golf course. Whether it is taking a swing on the 18th hole, or following up with a customer, Brad's dedication to success has helped him to thrive at Express Packaging for the last 20 years. In fact, it is his dedication and love of the job that makes him want to spend another 20 years as an integral member of the Express Packaging family.
Express Packaging Welcomes You to Become a Part of Their Multi-Generational Family
Whether you want to discuss corrugated boxing and best practice shipping methods with sales expert Brad Herrin, know more about the family-owned business, or need help with a custom shipping order, Express Packaging looks forward to welcoming you into their multi-generational family. Discover the benefits of working with a company that manufactures durable, high quality, environmentally friendly, and affordable corrugated boxes. To place your next custom or standard corrugated box order, contact a member of the Express Packaging family today.