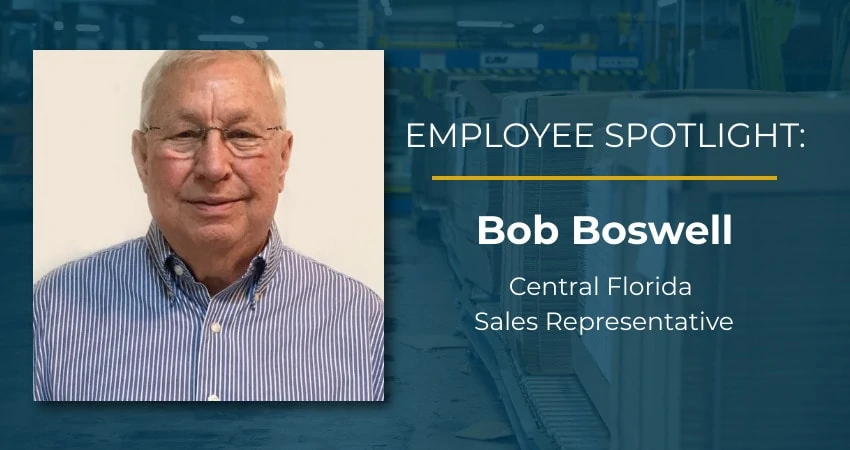 As a family-owned and operated company, Express Packaging has done more than just partner with its customers to provide exceptional corrugated box manufacturing services for any end-use application. We specialize in building and developing our people as well. 
Bob Boswell is our most seasoned team member at Express. He joined the company at age 67 after a long career in the packaging industry, and has played a significant role at Express. Learn more about Bob and his value to the Express Packaging family.
Meet Bob Boswell
Ever since playing running back for his high school football team, Bob has lived by core values of teamwork. After 52 years in the packaging industry, he knows all team members must be committed toward a common goal of continuously improving. It's part of the reason why Bob joined Express Packaging. He loves the positive culture at Express, the work ethic, and the way the team operates like a family. Bob was surprised by how quickly Express can turn around high-quality work, thanks to the dedicated team. He is proud of the Express standard.
As a member of the sales team, Bob's most satisfying accomplishment at Express has been quickly establishing his own territory. He was able to bring a large portion of his customer base to Express, and he takes pride in growing and taking care of those customers. Bob believes in building relationships with clients based on honesty and integrity. "You sell yourself first, then your product," Bob says. He develops relationships by ensuring his customers can count on him and reach him at any time. And when customers commit to him, he makes it clear that the gesture is reciprocated.
Bob's personal goal is to reach the milestone of 55 years of working in packaging. No matter how much time passes, he still lives by the values of teamwork, professionalism, and excellence instilled in him by his loving mother and father. 
A native Floridian, outside of work Bob can be found enjoying a round of golf, taking in a good book, cooking, or settling in to watch a movie.
Join the Express Packaging Family Today
From corrugated box making to labeling to flexo printing, Express Packaging is eager to hear from you and ready to welcome you into its family. You too can discover the benefits that Bob has realized of working with a family business rooted in honesty and integrity. For more information on your next corrugated box order and to see what Express Packaging can offer to you, contact a member of our team today.