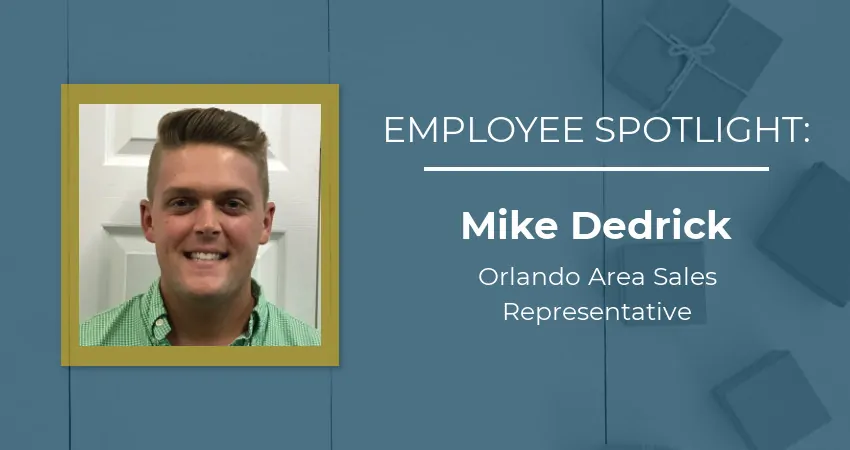 With over four decades in the business, we'd like to think we do corrugated box solutions right. The go-to manufacturer of boxes in a number of shapes, sizes and custom features, we take pride in our establishment. Located right outside of Savannah, Georgia, our support comes from all over. At Express Packaging our success starts with our employees.
Meet Mike Dedrick
Mike Dedrick is our Orlando sales representative and one of the reasons we can serve our customers with excellent service. Known for networking and developing relationships to get the job done, he's proven to be a pro at increasing sales numbers. Consistently learning and honing his skills to set a clear path for the future, his mindset is to never let things get stagnant.
Motivated by playing sports and being competitive, Mike enjoys competing against the other sales guys in the company. He loves working at Express Packaging because everyone is very supportive, allowing the sales reps to do what they do best in a way that works for them. He builds a successful customer base by trying new things, setting his schedule days in advance, and calling different places every day.
Mike appreciates being able to have autonomy in his role. The company is very family-oriented, providing flexibility in personal time. Having a good team of employees to work with, frequent phone calls with his boss and an in-person meeting at least once a month add to his enthusiasm in being with the company and overall success. One of his biggest accomplishments while at Express Packaging was landing his first big account. He met with the owner without an appointment, had a friendly but informative conversation, and the client placed an order the following week. To this day, that's still one of his biggest customers.
What's in store for Mike and Express Packaging?
"We're the busiest we've ever been for the last 40 years. My goal is increasing sales year over year while keeping a steady pace. I'm still learning the best way to service the customer. People think about boxes being pretty cut and dry, but there's a lot to learn."
His hobbies include playing golf, running 4 to 5 days a week, going to the beach, watching baseball, and participating in his kickball league games once a week.
Looking for corrugated box solutions? Give us a call at Express Packaging and we'll help you get started with your next custom box order today!