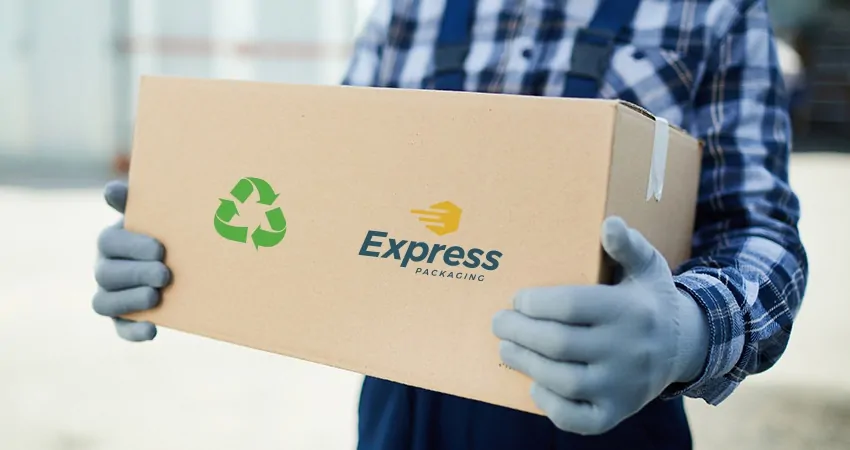 Recycling and sustainable packaging have become essential in today's shipping practices. At Express Packaging, we do our part to make the world greener with each shipment. Using natural, corrugated packaging offers many environmental benefits – learn the advantages of reducing your carbon footprint to help sustain the planet you call home.
How is Corrugated Packaging Sustainable?
Corrugated packaging offers a sustainable solution that is recyclable, biodegradable, and contributes to a greener future. Learn more about the benefits of this shipping and packaging option:
Recyclable for the Future
Certain corrugated packaging fibers can be recycled multiple times as long as they are free from contamination. These boxes often contain a high percentage of recycled materials, sometimes up to 90%, making them superior to wood or plastic alternatives. 
Some corrugated boxes can be recycled as many as 25 times, proving their durability and longevity. However, It's important to note that Mullen Burst-grade corrugated board typically has little to no recycling potential.
Pizza boxes and other food containers, often contaminated with grease or coated with wax, are also unsuitable for recycling. Check with your local recycling center to determine which types of corrugated packaging can be safely recycled. 
A Biodegradable Choice
Corrugated packaging material offers a biodegradable alternative to fossil fuel-based packaging options. If the sustainable packaging material ends up in nature, it naturally absorbs into its surroundings within approximately two months.
Luckily, corrugated fiberboard is more likely to be recycled than any other paper product, which is usually made from recycled materials. To achieve the best return-to-nature result, reuse and recycle packaging as often as possible. 
At Express Packaging, we're committed to making a positive environmental impact. That's why we provide our customers with a variety of eco-friendly packaging solutions and recycle over 98% of our box material waste.
Stimulates the Economy
Fortunately, countries around the world are now realizing the importance of using biodegradable materials, leading to the development of a circular economy that aims to tackle the environmental crisis. The European corrugated industry is an inspiring example of this commitment to protect the earth. 
The continent is taking a proactive approach by trying to recover and recycle every fiber from the packaging material it produces. Made with a majority of recycled materials, corrugated cardboard requires less energy and funding to produce. 
Therefore, the European corrugated industry's strategy helps reduce waste and contributes to building a sustainable economy. By embracing corrugated packaging, businesses can actively participate in this movement and contribute to creating a greener future.
Ship Sustainably With Express Packaging 
Express Packaging is dedicated to the future, constantly staying informed about new advancements in the packaging industry. The environmental benefits of sustainable boxes are clear and will likely continue to improve. To learn more, contact us for a quote today.