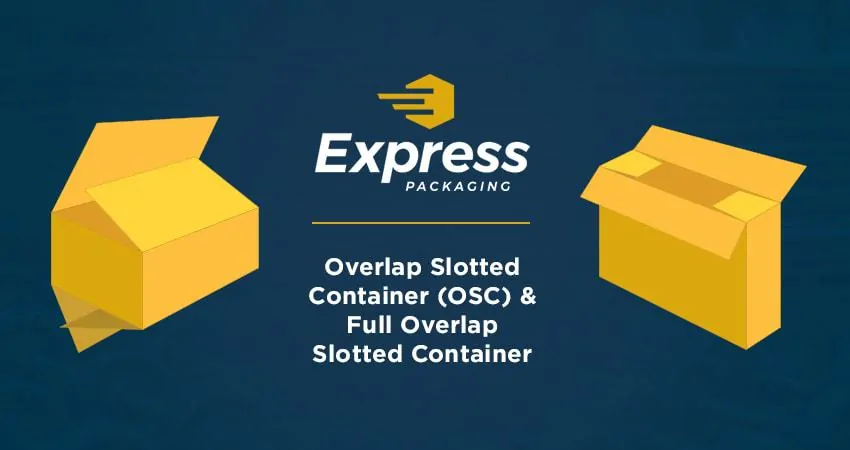 Why An Overlap Slotted Container May Be Right For Your Packaging Needs
For the vast majority of packaging applications,  the standard "Half Slotted Container" (HSC) is the right choice. It's sturdy, fast to fold into place, and it's sealed with a quick swipe of the tape gun. But what about those instances where you need something a little more robust? Enter the "Overlap Slotted Container" (OSC) and its variation, the "Full Overlap Slotted Container" (FOL).
What Is An Overlap Slotted Container (OSC)?
Whereas a half slotted container features two flaps of equal length that meet in the middle of the box's top and bottom, an overlap slotted container has (as the name implies) two flaps of equal length that overlap with each other, at least by an inch.
What Is A Full Overlap Slotted Container (FOL)?
This variation of the OSC features two flaps of equal length that almost completely overlap at the top and the bottom (typically short by just under an inch). The reason the ends of the flaps are often cut to not entirely overlap is to ensure the box can fully close.
What Are The Advantages Of Overlap Slotted Containers?
Here are some examples of when a standard or full overlap slotted container  is appropriate for your packaging needs:
Long Boxes – In instances where the length of the boxes substantially exceeds the width, this can sometimes create a gap between the flaps toward the center. An overlap slotted container solves this problem by eliminating the potential for a gap.

Allows For Staples – An overlap slotted container and full overlap slotted container both make possible the use of a stapler to close the box, which can offer a more robust closure than tape.

More Strength and Durability – Regardless of whether tape or staples are used, the overlaps can enable the box to hold heavier contents as well as withstand rougher handling. This is because the overlap makes it more difficult for the flaps to pull apart.

Additional Protection – A full overlap slotted container, in particular, is a great choice when added protection for the box's contents is needed.

Additional Stacking Capacity – A common technique is to stack full overlap slotted containers on their side. The double thickness translates to increased ability to support the weight.
Express Packaging Is Your Go-To For Premium Custom Printed Boxes
Express Packaging provides the highest quality custom or standard-sized boxes and offers all leading styles, including overlap slotted containers and full overlap slotted containers. No matter which options you choose, our team at Express Packaging can be trusted to deliver fast, friendly, and reliable service, as well a competitive pricing. Give us a call and let us prove we're the best choice!