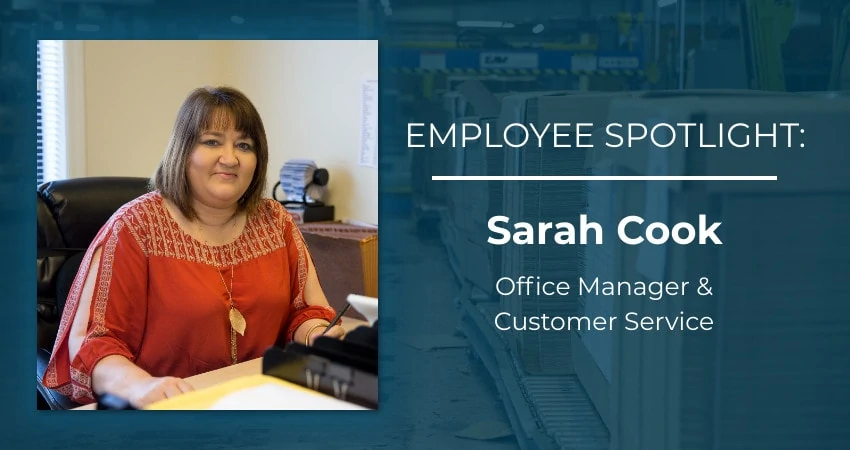 Throughout the years, Express Packaging has proudly held its family-owned and operated status. Express Packaging has successfully helped to manufacture corrugated boxes of varying shapes, dimensions and styles to meet the custom needs of every customer. Though Express Packaging is fortunate enough to have a multitude of extraordinary employees, one employee, in particular, has stood out for her dedication and commitment to the business. Through her exceptional efforts, Sarah Cook has become a valued member of the Express Packaging family. 
Meet Sarah Cook
Sarah Cook started her career at Express Packaging in 2000 as a customer service representative. November will mark her 20th year of employment with Express. It wasn't long before Express recognized Sarah's outstanding work ethic and eagerness to learn, and promoted her to a manager position a few years later. She is responsible for activities related to financial planning such as record keeping, billing and logistics within the organization – in addition to supervising and overseeing other staff members. Sarah says she is lucky to have a good group of employees working with her. 
Sarah considers the opportunity to teach and train new employees her greatest professional accomplishment. "We are more like a family and not just a workplace, and this is why I enjoy coming to work every day," said Sarah. It is Sarah's mission to make sure every new employee feels like a member of the Express Packaging family. 
Sarah is grateful to Express for impacting her family life in a positive way. As a mother, Sarah values the ability to be closer to home. When her children were younger, Sarah was able to attend their school events and doctor appointments when needed – something that not all jobs are able to accommodate. Sarah sees herself continuing to grow with Express Packaging and helping to benefit the company. She is excited to see all that is in store for Express Packaging and the many accomplishments and milestones they will achieve! 
Join the Express Packaging Family 
Whether you want to discuss corrugated boxing and best practice shipping methods with passionate experts like Sarah, learn more about the family-owned business, or need help with a custom shipping order, Express Packaging looks forward to welcoming you into its multi-generational family. Discover the benefits of working with a company that manufactures durable, high quality, environmentally friendly and affordable corrugated boxes. To place your next custom or standard corrugated box order, contact a member of the Express Packaging family today.