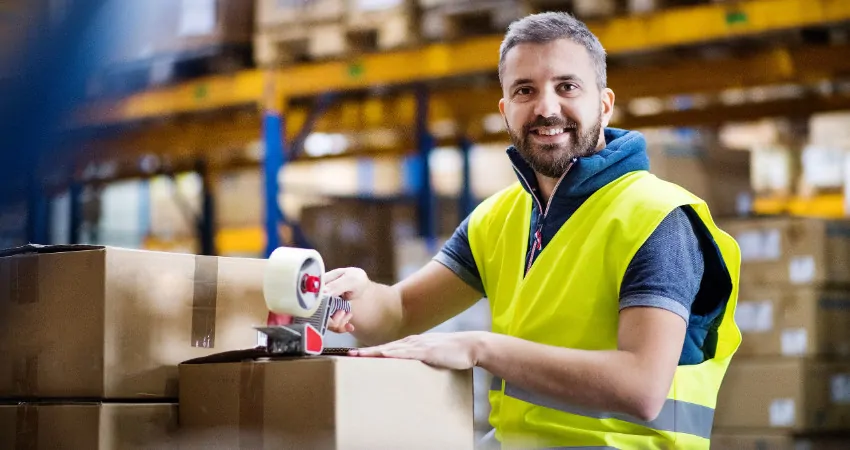 Did you know that you should always tape the bottom of a corrugated box before you begin to pack it? Folding the bottom flaps over each other might seem like a great idea until you pick it up, the bottom collapses, and your valuable goods fall to the floor. No one wants to see their carefully packed items fall all over the floor—or worse, get lost during shipping due to a collapsed box—which is why you should follow these 3 easy steps to properly seal a corrugated box.
3 Steps to Seal a Corrugated Box
Before you complete the following steps, make sure that you're working with a high quality, durable box. Next, you will want to use durable tape with a handheld dispenser. The handheld dispenser will reduce tape waste and help you create the strongest seal. After you have gathered the right products, you will be ready to complete the following steps.
Seal your box by folding the two smaller flaps. Next, fold the two larger box flaps to create the strongest seal. Make sure that the box is the right size for your products, and, if need be,

purchase a custom box

to better protect your items.

Seal the edges of the cardboard box with the handheld tape dispenser. Make sure the tape goes across the entire length of the box. The tape should go past the side of the box and be secured to the side.

Complete the sealing process with an H shape. The H shape not only offers the maximum strength but is also durable for longer journeys, and it provides a tamper-evidence seal. Be sure to create the H shape at either end of the box.
The above three steps will help you to create a strong seal that will last the length of your package's journey.
Additional Tips to Keep In Mind
In addition to completing the above three steps, you should avoid interlocking the ends of the box. The interlocking flap method will actually weaken the strength of the box. You should also avoid sending a box that hasn't been properly filled. Instead, you can fill any leftover space with filler products such as bubble wrap, air pillows, or recycled paper. Finally, be sure to use environmentally friendly shipping products.
Discover the Benefits of Corrugated Boxes Today
Now that you know how to properly seal a corrugated box, are you ready to send your packages around the world? Whether you need to customize your boxes to match your personal or brand style, or you want to use the most cost-effective solution, Express Packaging is here to help. Our corrugated boxes are environmentally friendly, lightweight, durable, and strong. To discover the additional benefits of corrugated boxes, contact an Express Packaging team member today.