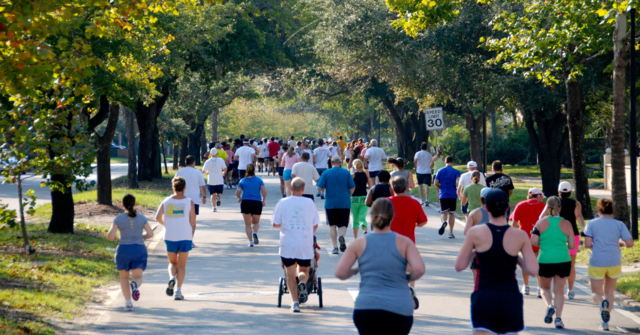 For more than 40 years, Express Packaging has been a family-run company in Georgia, establishing close relationships to the areas we serve. Finding ways to support the community has always been a priority. That's why it was important for our team at Express Packaging to sponsor and participate in the upcoming Avondale 5K Classic, which benefits Sanctuary on 8th. Sanctuary on 8th's mission is to empower Jacksonville youth and families in need by ministering to their spiritual, physical, social, and educational needs. We invite you to join in on the good cause by donating, running, or joining as a spectator. Express Packaging was built on hard work and dedication, and we look forward to sharing these core values with the rest of the community. Learn more about how you can participate in the Avondale 5K Classic below.
Join Us at the Avondale 5K Classic
The Avondale 5K Classic will take place Saturday, March 19th, 2022. There are two race options depending on your interest: a 1-mile race starting at 8:00 am and the main 5K race beginning at 8:30 am. Both races kick off at the Shoppes of Avondale in Jacksonville, Florida and continue through Boone Park and along the beautiful St. Johns River.
Registration costs $30–$40 for the full 5K, or you can join the 1-mile "Fun Run" for only $15–$20. You can sign up for the Avondale 5K Classic here.
A Cause We Care About
Proceeds from the race give back to Sanctuary on 8th, a child advocacy organization centered around the growth of children and families within the Jacksonville community. Since its inception in 1992, Sanctuary on 8th has continued to respond to the changing needs of the public, extending its care to serve over 100 kids.
Sanctuary's primary mission is to be the catalyst that will allow for the spiritual, intellectual, educational and physical growth of the Jacksonville youth. They offer assistance programs to help fill children's idle time with effective and empowering opportunities like afterschool homework help, summertime enrichment programs and more.
Express Packaging is a company with humble beginnings that has benefitted from the support of communities throughout Georgia and Florida. That's why it's important to us to offer the same support and encouragement to establishments like Sanctuary on 8th.
We Stand With the Community
Express Packaging has grown tremendously since we were founded in 1979, as we now service five states in the Southeast expanding our sense of community across state lines. From sponsoring local events to donating cardboard boxes to organizations in need, our efforts are all about giving back to the areas that have supported us.
Express Packaging is a family-run business and we know how important a support system can be for development and education. We are donating to Sanctuary on 8th and sponsoring the Avondale 5K Classic in an effort to provide kids a similar sense of family.
A Company Built on Dedication and Hard Work
We are more than just a company that makes boxes. We are a business founded on integrity, quality, dedication and hard work. Express Packaging's core values and commitment to community involvement set us apart from other corrugated box distributors in Georgia. This race is important for the children and families, if they benefit, the entire community benefits. Sign up for The Avondale 5K Classic or donate directly to Sanctuary on 8th.