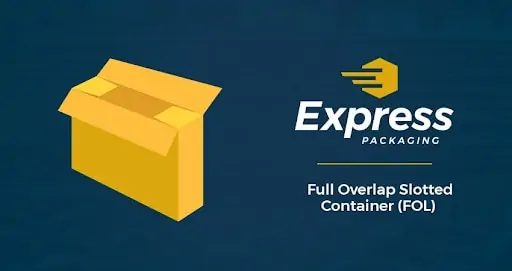 Packaging protection has become increasingly important over the last year. Data shows that damage during transit increased by almost 20-percent in early 2020. There are many packaging options available that are designed specifically to keep your items safe. However, there's one type that outdoes the rest when it comes to keeping your things damage-free and that is, FOL's or full overlap slotted containers.
What is an FOL?
FOL is an abbreviation for full overlap, meaning that these containers feature flaps that almost completely overlap each other. This creates thick padding between what's inside the box and anything that could penetrate the items from the outside.
The flaps are about one inch short of totally overlapping which leaves a small space for the flaps to lay flat without bumping into each other. They can be ordered in several different variations. For example, order them with just flaps on the bottom, just on the top, or both.
How Do You Use an FOL?
Full Overlap Slotted Containers make it easy to ship differently sized or especially delicate products. Here are some specific instances where using a FOL would be a great option for you:
Shipping Long Items
Rather than struggling with a long piece of tape across a regular slotted container, consider taking advantage of a FOL's long and durable flaps. These only require two small pieces of tape to secure at the end. You also have the option to add industrial straps for added stability during transit
Shipping Delicate Items
A FOL features thick flaps that can withstand heavy pressure from other products. This can help prevent products from breaking during transit. This box style will protect items, minimize damages, and decrease the frequency of returns. Use FOL's for any beloved items like antiques, family heirlooms, mirrors, and paintings.
Shipping Heavy Items
Overlapping flaps, no matter where they are located, will keep the box itself from breaking when it contains heavier products. With FOLs, you can have peace of mind that your products or items will arrive safely, without falling through the bottom.
How Do You Fold One?
Folding a FOL is easier than it looks. Here are your steps to folding a full overlap slotted container:
Place your products or items inside the box with any necessary packaging materials.
Fold the first flap and lay it flat over the opening. If this box is correctly constructed, there will be no bending or breaking.
Secure the second flap down so it lies flat over the first.
Seal the flaps with a small piece of tape.
Fasten any labels, stickers or other information to the box.
At Express Packaging, we offer several types of boxes all designed to suit your needs. Select a full overlap slotted container from us to accommodate all your shipping needs and to keep your items extra secure during transit. Request a quote for your custom boxes today.