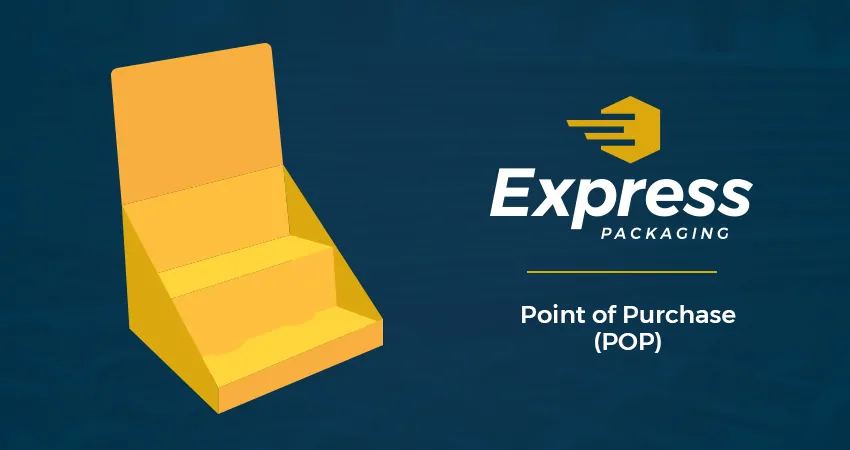 Sturdy corrugated cardboard isn't just used for boxes. It's also a top choice for custom designed display containers at highly visible point-of-purchase locations, such as checkout stands and wherever you want to encourage impulse purchases.
Benefits of POP Products
Excellent merchandising design adds visual pop that encourages customers to select a product. Express Packaging's custom Point of Purchase (POP) Containers can meet your needs by:
Providing strong construction of floor and pallet display containers that double as self-shippers
Aiding mass merchandising and warehouse sales
Offering effective branding through custom flexographic box printing and production/application of full-color lithographic labels
Allowing flexible design to fit any type of display space, including walls, floors, and counters
Increasing earnings by making it easier for customers in brick-and-mortar stores to find your product
Differentiating products in stores crowded with similar goods
Marketing product in a cost-effective way
Comparing POP & HSC Products
Similar to half-slotted containers (HSCs) without lids, our POP containers only have flaps on the bottom for an attractive design of self-shipping display containers. Also similar to HSCs, our POP containers are effective for minimizing staff time spent unpacking goods. Both types of ship-and-display containers are particularly efficient for short-distance delivery, such as within metro areas.
Meeting Your Needs
Affordable custom design is a large part of how we please customers at Express Packaging. Our Southeast clients have lots of container needs, some of which can be met by our standard inventory and others that require custom design. In addition to making various custom containers — whether for shipping, storage, or display — we produce corrugated packing aids. These include pads, dividers, and other inner packing pieces.
Contact Express Packaging today with your questions and to obtain a free quote.