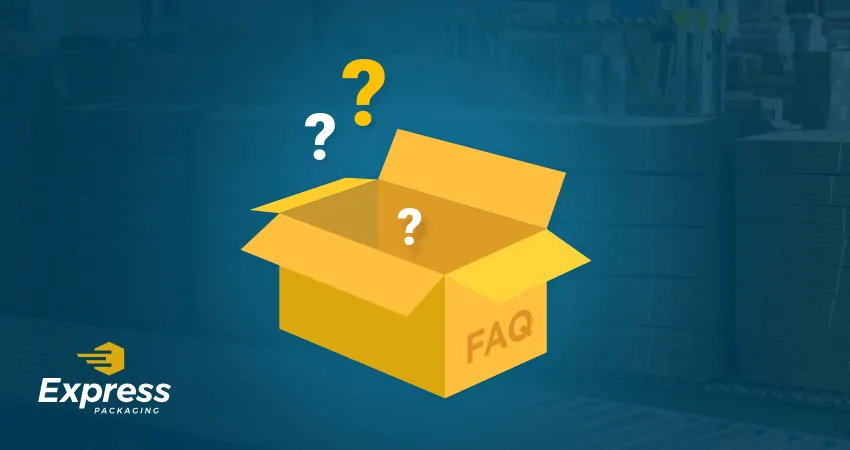 How much do custom boxes cost?
The cost of a custom cardboard box will vary based on each order's specifications. Some boxes are more complex than others, requiring special types of die cuts. Express Packaging will provide you with an all-inclusive quote, so you know how much money you'll be spending upfront. To receive a quote, you can either call, fax, or fill out our online form. (Minimum order requirement is $400.)
Can I get my boxes tomorrow?
Express Packaging is happy to work with our customers based on their needs. In some cases, we can fulfill orders as soon as the next day. If you have a last-minute request, give us a call to get immediate answers to your questions!
Can I print a specific design or message on my boxes?
Yes! Our customers can choose from several options to customize their boxes. Whether it's a simple 'FRAGILE' warning on the side of the box or a colored logo that spans the opening flaps, we can help. All we need you to do is provide the image and preferred dimensions, and we will make sure it is included on the box.
How should I determine the strength of my box?
The strength of your box will depend on the weight, height, and width of your items. From standard to extra strong, you can send items up to 105 inches (after adding height, width, and length) and 120 pounds. We offer both single and double walls on our boxes, so they can survive even the longest journeys.
How will cutting dies affect my quote?
Different boxes will require different cutting dies. The more complex the operation, the higher your quote will be. If you are ordering a smaller quantity of boxes (e.g. less than 1,000), then your project will likely require a flat-cutting die. Larger quantities call for rotary cutting dies. Die cuts may cost a little more, but the speed and accuracy of the operation are unparalleled. Express Packaging is here to protect your inventory by giving you the highest quality boxes in the industry.
Express Packaging provides unmatched service. From high-quality boxes to unparalleled customer service, we are here to help. Contact us today to learn more about how Express Packaging can help you.