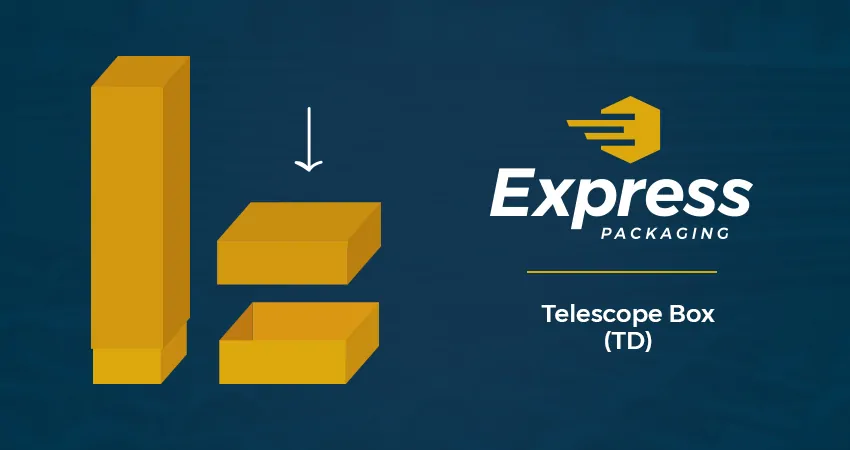 For those who want to keep their bulky or fragile inventory safe, the Telescope Design (TD) box delivers. Express Packaging makes boxes with extra strength corrugated cardboard designed to support even the most delicate of items.
What Is a TD Box?
Made from two separate pieces, the TD box has a fitted top that recipients can pull off to reveal its contents. The top of the box can either be a Full Telescope (FTD) or a Partial Telescope (PTD). Customers also have the option of a full-depth top for especially unwieldy items. This top will slide over the bottom to provide additional support on all sides of the package.
Why Use a TD Box?
A TD box is perfect for protecting long, flat items (e.g., framed art or full-length mirrors) or bulky items (e.g., area rugs or large lamps):
Reinforced sides: The overlap of the TD box creates extra protection on the sides of each item. This helps shield it from damage even if it sustains a few extra bumps along the way.
Extra strong: TD boxes are made from tough corrugated cardboard, which means they are built to be stacked. This compression strength on the top and bottom allows for more effective space utilization and a streamlined shipping process.
Customizable: When you choose a TD box from Express Packaging, you can also choose to print logos, phrases, or designs to brand the box and spark an instant connection with the recipient.
Shipping and Assembly
Both the tops and bottoms of all TD boxes are shipped flat. Staff can assemble TD boxes by manipulating the corners and then securing them with staples or adhesive. Our TD boxes are intuitive to assemble, freeing up a staff's time without sacrificing the overall structure of the box.
A Full Telescope (FTD) box comes in a variety of widths and heights and can be special ordered to meet the dimensions of practically any product. For example, if you had an especially large piece of glassware to ship across the country, our boxes can provide enough space for both the item and the protective packaging surrounding it.
Finding the Solution
Express Packaging is here to help our customers find the right TD boxes. Whether you are looking for a specific branding image or just want the ability to stack more items, TD boxes can provide a solution. Contact us today to learn more about our TD boxes and pricing!