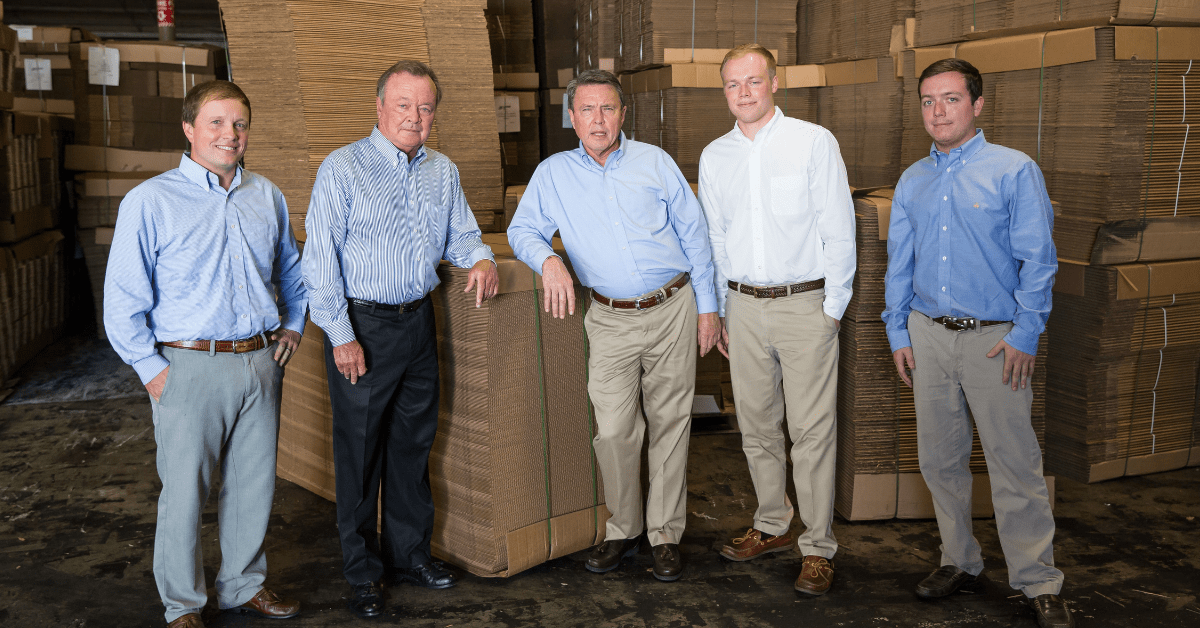 When it comes to packaging, the Reardon family are the experts. With over 40 years in business and history in the industry dating back to the early 1900s, there is no one who knows boxes better. 
As a family-owned and operated business, Express Packaging has spent years building and proving its reputation for dependability and superior quality. Our dedication to providing sustainable and versatile packaging solutions sets us apart from the rest. There is no better investment than Express Packaging's custom corrugated cardboard boxes in Georgia.
More Than 40 Years of Experience
The Reardon family started their packaging business in the 1900s when they opened Port City Packaging in 1979. The title may have changed, but the commitment and passion for quality cardboard shipping boxes in Georgia remains strong.
John Sr. and Mike Sr.'s passion and work ethic have inspired many others to join Express Packaging over the generations. John spearheads business operations while Mike leads customer support. Their comprehensive commitment has made the company what it is today. Integrity and devotion are the guiding principles for Express's daily operations to this day.
Family Values
The founders of Express Packaging supported each other like family, because they are. Their experience in the industry dates back to the 1930s when John Sr.'s grandfather, John Morse, worked for Union Camp, a paper bag manufacturer. His son, Bob, would then work there as well as Bob's sons John Sr. and Mike Sr. Both boys built a strong work ethic through their work as children, waking up early and staying late until the job was done right.
John Sr. initially started Express Packaging while his family supported his entrepreneurial spirit. Many of the Reardon's who also worked at Union Camp came to join him as well as many other friends and acquaintances.
While John got his hands dirty with operations, his brother, Mike Sr., was passionate about solving problems and taking proper care of customers through better service and technology.
His son, Mike Reardon II, started working at Express when he was 16 and has since adopted an important role in the business, too. As the lead Sales Manager since 2017, Mike II is responsible for opening many new accounts and mentoring each and every sales representative of Express. He says that is his favorite part of the job, inspiring other employees to sell corrugated shipping boxes in Georgia with dignity and honesty, and love every second of it.
Quality Is Their Goal
Express Packaging offers a variety of services including but not limited to custom corrugated shipping boxes in Georgia. We manufacture boxes of all shapes and sizes that are built to withstand even the poorest conditions. These cardboard shipping boxes in Georgia will keep your products safe. 
Our warehouse stores many box sizes and if you don't find what you are looking for, let us know. The Express team will find you the box that best suits your needs.
We specialize in:
2 Color Flexographic Direct Print
Full-Color Lithographic Labels
Samples & Prototypes
Structural Design Services
No matter the service type, our customer care team will make your transaction as smooth as possible. Not only that, but when you work with us, you make the world a better place. We are committed to recycling 98% of our material waste.
A Dependable and Evolving Future
Located 20 minutes outside of Savannah, Georgia, we serve both local and national businesses alike. The packaging industry is growing, and we will be there to grow with it. 
With e-commerce sales booming, packaging needs are increasing exponentially. It is expected that e-commerce sales will reach $5.5 trillion dollars in the next three years alone. That means more shipping and more boxes. 
During shipping transit, boxes are handled approximately 20 times. That means you need a sturdy, reliable packaging solution. Georgia custom corrugated boxes not only cost less but also are the safest option for your products.
Express Packaging has a history of proven quality excellence. When you work with us, you become a part of our family and we will treat you as such. If you are in need of a trustworthy packaging partner, request a quote with us today.