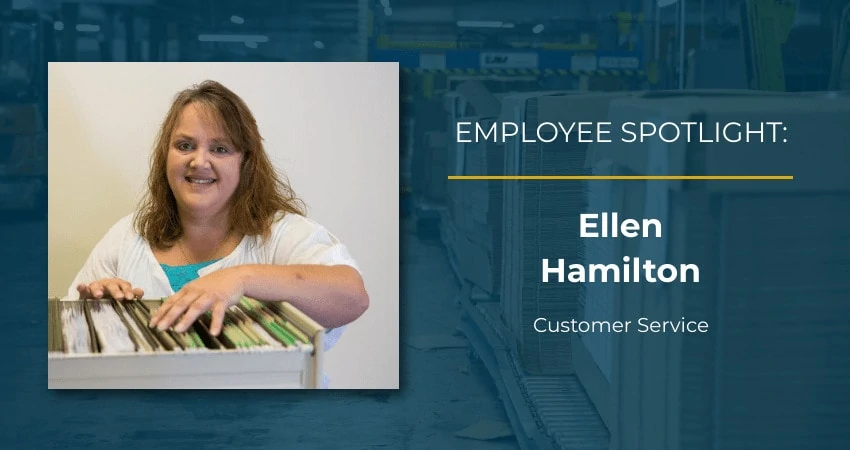 Express Packaging, a family-owned and operated business is proud to deliver the best service in the manufacturing of corrugated boxes in varying shapes, dimensions, and styles to meet the needs of every customer.
They couldn't do that without their loyal employees who believe in the Express Packaging company and thrive off of its continued growth in the industry. One employee, Ellen Hamilton, has had the opportunity to work for Express for six years now, and her only regret is not joining the team sooner.
Meet Ellen Hamilton
Ellen Hamilton began working at Express Packaging in 2014 as a part-time customer service representative. At that time, she needed the flexibility to take care of her mother, and she was so appreciative to have found that with Express. In 2018, she moved into a full-time position and started to manage accounts on her own. She had the pleasure of working with others to meet their shipping boxes and custom boxes needs.
Her years at Express have been filled with education, opportunity, and achievement. She says she is most satisfied by learning new things about the job and the cardboard boxes and box manufacturing industry on a daily basis. The culture at Express is what keeps her waking up every morning, excited to go to work. "It's a family and not just a workplace," said Hamilton.
She explained how she wouldn't be happy in the role if it wasn't for the management team and her coworkers. "You are nothing without a good team of coworkers and leaders," she said.
Hamilton strives every day to live up to the standards and values of Express Packaging and provide the best customer service possible, ensuring that customers feel taken care of no matter the shape or size of their order. She says she operates by the golden rule, especially when it comes to customer relations, "Treat others the way you want to be treated."
She has witnessed extensive growth for the company, its clients, and its employees over the years. In the future, she hopes to grow within the company and contribute even more to its success.
In her spare time, Ellen loves being with friends and family. When she's not working, you'll find her lounging on the beach, camping in the great outdoors, or planting beautiful flowers in her garden.